BLODGETT & BLODGETT, P.C.
PATENTS, TRADEMARKS, COPYRIGHTS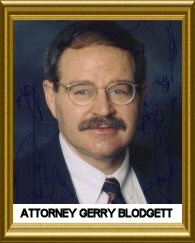 INFORMATION ABOUT ATTORNEY GERRY BLODGETT.
GERRY A. BLODGETT - PATENT ATTORNEY
Mr. Blodgett graduated from WORCESTER POLYTECHNIC INSTITUTE, Worcester, Massachusetts in 1970 with a Bachelor of Science degree in Chemical Engineering, specializing in Chemical Processing and Material Science but including Mechanical Engineering, Electrical Engineering, Physics, Computer Science, and Business Economics. Further study in this field resulted in a Master of Science degree in 1972 from the same institution, the focus of which was Advanced Thermodynamics, Mathematical Analysis in Chemical Engineering, Adsorption and Crystal Synthesis. While pursuing his education, Mr. Blodgett was employed at BLODGETT & BLODGETT, P.C. as Patent Trainee from 1967 to 1971. He was subsequently admitted to practice before the United States Patent and Trademark Office as a Registered Patent Agent (1971).
Through continued study, Mr. Blodgett obtained his Juris Doctor degree cum laude in 1976 from SUFFOLK UNIVERSITY LAW SCHOOL, Boston, Massachusetts, and was a member of the law review. As Technical Advisor (law clerk) from 1976 to 1978 to Judge Phillip B. Baldwin of the U.S. COURT OF CUSTOMS AND PATENT APPEALS in Washington, D.C. he advised, and prepared draft legal opinions for Judge Baldwin on matters concerning technical aspects of appeals from the United States Patent Office. In 1977 he was admitted to practice before the Massachusetts courts, and thereafter the District of Columbia courts, U.S. District Court for the District of Massachusetts, Court of Appeals for the First Circuit, Court of Appeals for the Federal Circuit and the Supreme Court of the United States.
Upon receiving his Master of Laws degree (L.L.M.) from THE GEORGE WASHINGTON UNIVERSITY, Washington, D.C. in 1979, Mr. Blodgett rejoined BLODGETT & BLODGETT, P.C., becoming president, of the firm in 1982. Mr. Blodgett enrolled in an Masters Degree program in Biomedical Engineering at W.P.I., including courses in physiology, biomedical engineering, medical instrumentation, and microprocessor-control of medical instrumentation.
Mr. Blodgett offers more than 30 years experience in U.S. and foreign patent, trademark, and copyright preparation, prosecution, licensing, and litigation, with special emphasis on chemical processing, material science and processing (metals, polymers, ceramics, crystals), computer applications, counseling and strategic planning for technology-based businesses.
Active in a number of community and professional organizations, Mr. Blodgett is also a frequent lecturer and has contributed to various legal publications such as the Suffolk University Law Review ("Patent Fraud and Rule 10b-5: A New Liability for Patent Fraud," 10 Suffolk U. L. Rev. 1064-1106, 1976), Proceedings of The International Symposium on Metalworking Lubrication ("Law and Lubricants"), and Journal of the Patent Office Society ("Relative Significance - A Concept in Chemical Structural Obviousness Cases," 63 J. Pat. Off. Soc'y., 69-125, 1981).
TO RETURN TO HOME PAGE, CLICK HERE.
TO RETURN TO TABLE OF CONTENTS, CLICK HERE.